Compare
Office Cleaning Prices

– Buyers Guide 2023

The cost of an office cleaning service ranges between $0.10 – $0.18 / Sq. Ft. Here's what you know to know to calculate your price point:






This guide will help you determine the kinds of services available and the overall cost to your business.
Office Cleaning Service Sample Costs
Below are a few examples of price facts for Office Janitorial Services which will give you an idea of how much you will pay for your purchase.
Cleaning of a 40,000 square foot office building  $0.07 to $0.13/SQ FT.
Office cleaned up to 12,000 Sq Ft Generally ranges between $0.09 to $0.17/SQ FT.
Offices cleaned via hourly rates cost between $55 to $115/hour.

Calculate The Cost of Janitorial Services – Pricing Chart Per Square Foot
How much are commercial cleaning costs? If you run a business with an office space and a team of employees, you're going to need to have it cleaned eventually, and frequently. The below chart describes the national average cost for office cleaning by square footage:
| | |
| --- | --- |
| Cleaning Space/Square Feet | Average Cost |
| 0–1,000 sq. ft | $175–$389 |
| 1,001–2,000 sq. ft | $175–$410 |
| 2,001–5,000 sq. ft | $400–$599 |
| 5,001–10,000 sq. ft | $560–$650 |
| 10,001–20,000 sq. ft | $620–$1,150 |
| 20,001–30,000 sq. ft | $1,150–$1,260 |
| 30,001–35,000 sq. ft | $1,200–$1,475 |
| 35,001–40,000 sq. ft | $1,278–$1,500 |
| 40,001–45,000 sq. ft | $1,375–$1,600 |
| 45,001–60,000 sq. ft | $1,400–$1,700 |
So how do you know you're not paying too much for your regular commercial office cleaning services? The good news is, signing a contract with a cleaning company isn't usually a commitment, and you are in control of commercial cleaning prices. The next chart itemizes cleaning costs by service:
| | |
| --- | --- |
| Office Cleaning Service | Average Cost |
| Floor Cleaning, Mopping, Scrubbing | $0.12–$0.24 per sq. ft |
| Vacuuming | $0.11–$0.20 per sq. ft |
| Bath Cleaning | $0.63–$1.20 per sq. ft |
| Kitchen Cleaning | $0.57–$1.20 per sq. ft |
| Window Cleaning | $3.63–$7.00 each |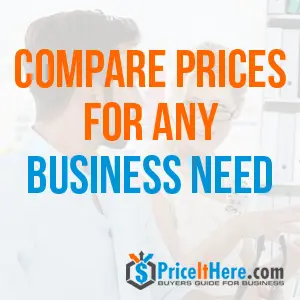 | Optional Cleaning Services | Average Price  |
| --- | --- |
| Kitchen Appliances | $10 – $37 per appliance |
| Floor Stripping/waxing | $0.29 – $0.47 per square foot |
| Scrubbing Tile Flooring | $0.12 – $0.22 per square foot |
| Floor Buffing | $0.06 -$0.13 per square foot |
Here, we'll show you how to compare prices and figure out how much cleaning should cost you.
COMPARE QUOTES
Introduction
Maintaining a clean and organized office environment is essential for the health and productivity of employees. This article explores the cost of office cleaning services and highlights the best companies to ensure your workspace stays pristine. We will discuss the factors that influence the cost of office cleaning, as well as provide information about top-rated cleaning service providers.
Factors Affecting Office Cleaning Cost
Office cleaning costs can vary based on several factors, including:
Size of the office
Frequency of cleaning
Level of cleaning required
Special services or equipment needed
Location and local labor rates
Typically, office cleaning companies charge per square foot, per hour, or offer a flat rate. In general, the larger the office space, the higher the cost. Moreover, the frequency of cleaning will also impact the overall expense, with discounted rates usually available for more frequent services.
Average Office Cleaning Costs
On average, office cleaning costs range from $0.07 to $0.20 per square foot. Hourly rates can range from $25 to $50 per hour, while flat rates can vary between $100 and $500 per visit, depending on the size and complexity of the space. It's essential to request quotes from multiple cleaning service providers to ensure you're getting a fair and competitive price.
Top Nationwide Office Cleaning Service Providers
The following are some of the best office cleaning companies that offer top-quality services at competitive rates:
Jan-Pro Cleaning Systems

Jan-Pro Cleaning Systems is a well-established commercial cleaning company with a global presence. They offer customized cleaning solutions tailored to the unique needs of each office. Jan-Pro is known for its innovative cleaning techniques and commitment to customer satisfaction.

Coverall

Coverall is a reputable office cleaning company that has been in the industry for over 30 years. They offer comprehensive cleaning services that include dusting, vacuuming, trash removal, and sanitizing high-touch surfaces. With their Health-Based Cleaning System, Coverall aims to provide a healthier and safer working environment.

Anago Cleaning Systems

Anago Cleaning Systems is an industry leader that offers high-quality office cleaning services. They specialize in green cleaning solutions, ensuring an environmentally friendly approach. Anago's customizable cleaning plans cater to businesses of all sizes and budgets.

SERVPRO

SERVPRO is a well-known company that specializes in not only office cleaning services but also disaster recovery and restoration. Their professional cleaning services include carpet cleaning, air duct cleaning, and antimicrobial treatments. With their 24/7 emergency response, SERVPRO is a reliable choice for maintaining a clean and safe office environment.

Merry Maids

Merry Maids is a highly-rated commercial cleaning company that offers both residential and commercial cleaning services. With over 40 years of experience, they have built a reputation for their thorough cleaning techniques and exceptional customer service. Merry Maids offers customized cleaning plans to suit the specific needs of each office.
Choosing the Right Office Cleaning Company
When selecting an office cleaning service provider, consider the following factors:
Experience and reputation: Look for a company with a proven track record and positive customer reviews.
Customized services: Choose a provider that offers tailored cleaning solutions to meet your office's unique requirements.
Green cleaning: Opt for a company that uses eco-friendly cleaning products and methods to minimize environmental impact.
Insurance and licensing: Ensure the cleaning company is licensed and insured to protect your business from potential liabilities.
Communication and customer service: Select a company that values open communication and provides excellent customer service.
The cost of office cleaning services can vary significantly depending on multiple factors, such as the size of the office, frequency of cleaning, and location. By researching and comparing different cleaning service providers, you can find the best company to meet your office's cleaning needs at a competitive price. Prioritize companies with a strong reputation, customizable services, and a commitment to eco-friendly practices to ensure the best results.
How Much Do Deep Cleaning Services Cost?
The cost of deep cleaning services can vary significantly based on several factors, including the size of the area to be cleaned, the location, the complexity of the job, and the company or individual providing the service. As of my knowledge cutoff in September 2021, the following are some general price ranges for deep cleaning services:
Small office cleaning: For a typical small office, deep cleaning services can range from $200 to $400 for a one-time cleaning. The cost can vary depending on the size of the ofice, the number of rooms, and the level of dirt or clutter. Larger offices or those requiring more intensive cleaning can cost significantly more.
Commercial cleaning: Commercial deep cleaning services can range from $0.13 to $0.50 per square foot, depending on the size and complexity of the space. Prices may also be influenced by factors such as the type of business, the need for specialized equipment or chemicals, and the frequency of cleaning.
Hourly rate: Some deep cleaning service providers charge an hourly rate, which can range from $35 to $75 per hour or more, depending on the experience and reputation of the cleaner. This pricing structure can be advantageous for smaller spaces or when the scope of the cleaning job is not well-defined.
Remember that these costs are only estimates and can change based on factors like regional cost differences, inflation, or changes in the market. It's always a good idea to request a quote from multiple cleaning service providers to get an accurate idea of the cost for your specific cleaning needs.
10 Types of Cleaning Services
The type of cleaning service can be categorized in various ways based on the type of space, service specialization, or clientele. Some common types of cleaning services include:
Residential Cleaning Services: These services cater to private homes and apartments, offering general house cleaning, deep cleaning, carpet cleaning, window cleaning, and other specialized tasks.
Commercial Cleaning Services: These services focus on cleaning commercial spaces such as offices, retail stores, restaurants, and other business establishments. They provide general cleaning, deep cleaning, carpet and upholstery cleaning, window cleaning, and more.
Industrial Cleaning Services: Industrial cleaning services deal with the unique challenges of cleaning factories, warehouses, and manufacturing facilities. They may specialize in cleaning heavy machinery, high-risk environments, or hazardous materials.
Janitorial Services: Janitorial services are a subset of commercial cleaning, focusing on routine cleaning and maintenance tasks for offices, schools, and other institutions.
Carpet and Upholstery Cleaning Services: These specialized services focus on deep cleaning carpets, rugs, and upholstery using professional equipment and techniques.
Window Cleaning Services: Window cleaners specialize in cleaning interior and exterior windows, glass surfaces, and related structures using specialized tools and techniques.
Pressure Washing Services: Pressure washing involves using high-pressure water to remove dirt, grime, mold, and other contaminants from surfaces like concrete, brick, and wood. This service is often used for cleaning exteriors of commercial buildings, sidewalks, driveways, and other outdoor areas.
Green Cleaning Services: Green cleaning services prioritize using eco-friendly cleaning products and methods to minimize the environmental impact of cleaning.
Specialized Cleaning Services: Some cleaning companies focus on specific niche markets or offer specialized services, such as crime scene cleanup, hoarding cleanup, biohazard cleanup, or post-construction cleaning.
Event Cleaning Services: These services provide cleaning and waste management solutions for events like concerts, festivals, conferences, and parties, ensuring the venue is clean and well-maintained throughout the event and cleaned up afterwards.
Common Cleaning Tasks
Whether they charge per job or by the hour, most commercial cleaning services break down their cost by the task.
Sweeping
Mopping
Vacuuming
Dusting
Steam cleaning carpets
Steam cleaning furniture
Polishing furniture
Wiping down outside appliances
Cleaning inside and under the refrigerator and other appliances
Washing coffee cups in the break room
Emptying garbage bins
Providing new bags for all garbage/recycling bins
Restocking toilet paper
Restocking paper towels
Cleaning carpets/rugs
Changing pet litter boxes (if your office allows pets!)
Disinfecting bathrooms
Cleaning windows and mirrors
Watering plants
Organizing
Polishing floors
Stain removal
These are all offered along with any other miscellaneous service you might need.
COMPARE
Top Commercial Cleaning Companies and Pricing
Jani King Cost
Jani-King is a world-renowned commercial cleaning franchise with over 7,500 locations in 10 countries. They clean conference rooms, complex tasks like large buildings, and one time cleaning services. The company has been delivering superior programs to customers for more than 20 years and was recognized as the #1 ranked service by 2009's Global Shopping Guide survey of retailers across all industries worldwide!
In 1968, a janitorial services entrepreneur started his business during the daytime then served those clients at night. Less than one year later he had established himself as an industry leader in commercial cleaning with innovative ideas and hard work that have made him the world's largest franchise company today.
A small-time contractor by day who worked long hours to barely make ends meet until sunset saw an opportunity when it was time for bed – giving birth to something great: Jani King International Inc., which now operates more than 4500 branches worldwide employing over 70 thousand people.
How Much Will it Cost to Hire Jani King?
Approximately $220 per month for a small office of 700 sq. ft. – 2,000 sq. ft.
Approximately $690 per month for offices between 2,000 sq. ft. – 5,000 sq. ft.
Approximately $1,200 per month for a 6,000 sq. ft. office
Approximately $2,150 per month for a 10,000 sq. ft. office
Approximately $2,800 per month for a 35,000 sq. ft. office
Approximately $5,200 per month for a 50,000 sq. ft. office
COMPARE
Jani-King's expert cleaning services will leave your office or commercial building in top condition, no matter what industry you work with. With hospital treatments available to suit every need from schools and financial institutions all the way down through medical facilities.
Office Pride Cost
The cost-effective option for your business is hiring a commercial cleaning service. With office spaces, it's important to maintain sanitary work environments and this can be done by outsourcing that responsibility with Office Pride which provides both janitorial services as well as those who specialize in making sure everything looks spic & span.
How Much Does Office Pride Charge?
Office Pride has a wide array of services, and the cost will vary according to the type cleaning service and square footage. Expect to invest about $0.11 – $0.14 per square foot. You could also calculate this to approximately $50 per hour. Light cleaning such as dusting, vacuuming, and emptying trashcans typically will cost about $259 a month. More detail cleaning such as waxing floors, polishing furniture, or window cleaning will generally start around $400 a month rising to as much as a few thousand dollars depending on the size of the office.
Commercial cleaning services are essential to the success of your business. Let Office Pride help you keep up with demand by hiring our professionals who will deliver quality work at competitive prices.
The entire process from requesting a quote to hiring Office Pride is hassle-free. Office Pride wants their customers to know exactly what they can expect: They will conduct thorough walkthroughs of your facility and identify areas that need cleaning, as well determine the frequency for routine services (if any) along with recommending other special products or processes needed based on input provided by you during consultation time.
COMPARE
ServiceMaster Clean Cost
Commercial cleaning services are a necessity for smaller businesses with limited resources, and they can also be beneficial to larger companies that don't have time or staff available to clean up the workspace. ServiceMaster Clean uses environmentally friendly products in their professional janitorial work because it's important not just what gets cleaned but how we do so- by using patented technology (the Capture and Removal System) this company removes all dirt from any surface without leaving behind harmful chemicals.
How Much Does Office ServiceMaster Clean?
As a national average small businesses will pay around $685 per month, and larger building and facilities will invest approximately $2,800 to $4,800 per month. In order to keep your office looking its best, you might consider deep cleaning and specialty services. For example, if linoleum floors need waxing or buffing at $0.16 per square foot then expect this cost with other common office-related tasks like carpet extracting (around $75), exterior power washing (about $68), or window washes ranging between $50 – $180 dollars.
The service industry is always bustling, but it's no wonder that ServiceMaster Clean commercial cleaning services are so popular. Smaller organizations can rarely afford to hire additional staff for non-essential tasks such as keeping your office clean and pristine at all times; meanwhile, larger companies need extensive amounts of help with maintaining their floors–and not just during peak hours when they're booking new business. That's where ServiceMaster Clean comes into play: by providing professionally trained janitorial workers using environmentally friendly products like Capture & Removal Cleaning System which effectively removes significantly more airborne particles.
ServiceMaster Clean is the go-to company when you need your facility cleaned and disinfected. With franchises in both commercial spaces as well residential properties, they're sure to have what it takes for any type of building size or situation. A family-owned business since 1965 has made them one of America's most trusted names in cleaning services – Service Master Cleaners can take care of anything from an office space all way down through homes with rigorous standards like yours so stop worrying about those dirty messes.
COMPARE
Cost to Clean Medical Offices
The cost of cleaning medical offices and medical facilities can vary depending on several factors, such as the size of the facility, the level of cleanliness required, the location, and the frequency of cleaning. To give you a rough estimate, here are some considerations:
Size of the facility: Larger facilities will typically cost more to clean than smaller ones. The cost to clean medical clinics is often calculated per square foot, which can range from $0.10 to $0.25 per square foot for general commercial cleaning. However, medical facilities may have a higher cost due to the additional requirements for sanitation and disinfection.
Level of cleanliness required: Medical offices require a higher level of cleanliness and disinfection compared to general commercial spaces. This often means using specialized cleaning products and techniques, which can increase the overall cost. Medical facilities may be charged anywhere from $0.20 to $0.50 per square foot or more, depending on the level of service required.
Location: The cost of cleaning services can also vary depending on the location, as labor and transportation costs may differ from one region to another.
Frequency of cleaning: The more frequently a medical office is cleaned, the lower the cost per cleaning session is likely to be. Some facilities may require daily cleaning, while others may need only weekly or biweekly service.
Additional services: Specialized services, such as cleaning and disinfecting operating rooms, dental offices, or handling biohazards and waste, can increase the overall cost.
Based on these factors, the cost to clean a medical office can vary widely. It is best to request quotes from several cleaning companies in your area, providing details about your specific requirements. This will help you find a service that fits your budget and meets your medical office's cleaning and disinfection needs.
What's a Fair Price For Labor Cost For Commercial Cleaning Services
Determining a fair price for labor cost for commercial cleaning services can vary based on several factors, including location, scope of work, and level of expertise required. Here are some general guidelines to help you:
Geographic location: Labor costs can differ significantly based on the local cost of living, minimum wage requirements, and competitive market rates. Urban areas may have higher labor costs than rural areas due to higher living expenses.
Scope of work: The type and size of the facility, as well as the specific cleaning tasks required, will impact labor costs. For example, cleaning large office buildings, medical facilities, or industrial sites may require specialized equipment, chemicals, and training, which can increase labor costs.
Level of expertise: The skill and experience of the cleaning staff can also affect labor costs. Highly trained and experienced workers may command higher wages than entry-level employees. Additionally, the complexity of the job or any specialized certifications (e.g., cleaning healthcare facilities) could impact the price.
Frequency of service: The more often cleaning services are provided, the lower the per-visit labor cost may be, as costs can be spread out over a larger number of service hours.
To get an idea of fair labor costs for commercial cleaning services, you can research the average hourly rates in your region or consult industry reports. For example, the average hourly rate for commercial cleaning services in the United States in 2023 is between $35 and $75 per hour, depending on the factors mentioned above.
COMPARE QUOTES
How to Save Money on Office Cleaning Services
Here's helpful advice that can help you save money on office cleaning services, with the information presented in bullet points:
Prioritize areas that need regular cleaning: Identify high-traffic areas, such as restrooms, break rooms, and entryways, that require daily cleaning. Areas like meeting rooms and executive offices may require less frequent cleaning. Prioritizing which areas need regular cleaning can help you save money by reducing the amount of time and resources required for cleaning.
Negotiate a flexible contract: Negotiate with your cleaning service provider for a flexible contract that allows you to adjust the cleaning frequency or scope of work based on your changing needs. This can help you save money by avoiding unnecessary cleaning or paying for services you don't need.
Consider off-hours cleaning: Ask your cleaning service provider if they offer off-hours cleaning services. Cleaning your office after hours can be more cost-effective since it reduces disruptions to your business operations and may require less time for cleaning.
Provide cleaning supplies: Instead of relying solely on your cleaning service provider to supply cleaning products, consider providing some supplies yourself. This can help you save money on the cost of cleaning supplies and may also help your cleaning service provider to work more efficiently.
Compare quotes from multiple providers: To ensure that you're getting the best deal for your money, compare quotes from multiple cleaning service providers. Look for providers who offer competitive pricing, as well as high-quality services that meet your needs.
By following these tips, you can save money on office cleaning services without sacrificing the cleanliness and hygiene of your workplace.
COMPARE QUOTES
People That Viewed This Page Also Found These Pages Helpful:
Coffee Service
Water Delivery
Event Planning
Ice Machines
Floor Cleaning Machines