Compare
Office Cleaning Prices

– Buyers Guide 2021






The cost of an office cleaning service ranges between $0.08 – $0.16 / Sq. Ft. This guide will help you determine the kinds of services available and the overall cost to your business.
Office Cleaning Service Sample Costs
Below are a few examples of price facts for Office Janitorial Services which will give you an idea of how much you will pay for your purchase.
Cleaning of a 40,000 square foot office building  $0.05 to $0.11/SQ FT.
Office cleaned up to 12,000 Sq Ft Generally ranges between $0.09 to $0.16/SQ FT.
Offices cleaned via hourly rates cost between $52 to $110/hour.
Calculate The Cost of Janitorial Services in 2021
If you run a business with an office space and a team of employees, you're going to need to have it cleaned eventually, and frequently.
So how do you know you're not paying too much for your regular commercial cleaning services? The good news is, signing a contract with a cleaning company isn't usually a commitment.
Here, we'll show you how to compare prices and figure out how much cleaning should cost you.

How Much Does a Commercial Cleaning Service Cost in 2021
The short answer: it really depends, but the average cost for office cleaning will be $0.07 – $0.16 / Sq. Ft.
Whether you've hired a cleaning service before or not, it's important to keep asking this question. Market prices change each year.
"Hiring a commercial cleaning service" can mean one of two things:
1) You need a cleaning crew to come once or twice to do a deep, thorough cleaning.
2) You need a long-term relationship with a cleaning company that will tidy up your commercial space on a regular basis.
Cleaning services tend to charge much more for labor-intensive deep cleanings, like polishing floors or power washing.
The easiest way to illustrate how much you can expect to spend on cleaning is to compare cleaning companies.
Below, we've compiled some real-life examples of business owners and about how much they pay for commercial cleaning. You'll notice commercial cleaning services come in as many shapes and sizes as there are businesses.
The perfect cleaning service for your business may not work for someone else. Let's take a look at these different businesses and what you would expect to pay if you were to hire them.

Compare Examples of Office Cleaning Prices
Take a look at what these business owners have to say about how much they pay for commercial cleaning.
Take time to notice how often they get their office space cleaned, the services they request, and any one-time fees they had to pay. As you'll see, prices vary:
Real Office Cleaning Prices From Real Business Owners
"The cleaning service prices that the Janitorial service charged us is $260 with a 15% discount on the first cleaning. This includes vacuuming, dusting, dishes, mopping, and various other miscellaneous services."
– Manufacturer, Hialeah, Florida
"$150/month. Comes in once a week and dusts, vacuums, cleans bathrooms, and performs the standard cleaning services."
– Dental Office, Clinton Township, Michigan
"$3,600 a month for a cleaning crew of four people. Service includes vacuuming, cleaning 12 toilets, dusting, and removing trash from four floors of a building." – Educator, Washington D.C.
"Monthly billing of $229 for office cleaning once a week. Services to include: dusting all vertical blinds, dusting and cleaning lobby desks, emptying all trash receptacles, and removing the trash to a collection point.
Also, sweeping and mopping all hard surface floors with a chemically treated mop head. Cleaning, polishing, and sanitizing drinking fountain and water coolers also a priority. Cleaning, sanitizing, and sweeping and mopping restroom." – Construction Office Manager, Las Vegas, Nevada
"$295 per month for once a week service. Supposed to be a white-glove service. I provide consumables; they bring their own cleaning materials." – Dentist, El Cajon, California
"$65 per visit for vacuuming (spot clean carpet stains), trash removal (replace torn/soiled liners), low dusting (under 7′ ceilings), clean entrance door /outside entrance glass, clean drinking fountain. Restroom service will consist of mopping floors w/a germicidal disinfectant, cleaning commodes, sink, and mirrors. Weekly clean of walls and partitions. Supply all dispensers." – Construction Contractor, San Antonio, Texas
"Initial cleaning service for $110 plus $160 for one month of service (bi-weekly)." – Retailer, Mount Sterling, Ohio
"Wood floor care, carpet shampoo, and stain removal for two stores. The price is about $1,800 per month." – Retailer, Woodbridge, Virginia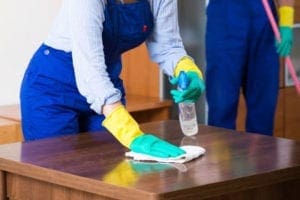 "$19,000 annually. Clean walls, ceilings, and floor in a 75,000 sq. ft. manufacturing facility." – Manufacturing Manager, Somerset, New Jersey
"$167/month. Mop and vacuum floors, clean bathrooms, and kitchens. All done weekly." – Retailer, Addison, Texas
"$780 – janitorial services once a week. Deep cleaning and carpet cleaning of high traffic areas monthly." – Manufacturer, Rowland Heights, California
"$294 per month for twice a week cleaning. This included kitchen cleaning, dusting of all desks/counters/chairs legs/and 1-2 walls, interior window washing, vacuuming for a 5,000 sq foot office, and cleaning four bathrooms. Plus, we will receive carpet steam cleaning once a year for an extra $100." – Real Estate Office Manager, Norwell, Massachusetts
"$2,490/month to clean a 72,000 sq ft warehouse/office complex." – Business service provider, Tampa, Florida
"$329 per month for once per week cleaning all items within reach (bathrooms, kitchen area, general retail area, backroom, and office) plus a once per month deeper cleaning of all items higher than reach." – Retailer, Chester, New Jersey
"Office cleaning for 3,000 square feet, 3x per week = $470/month. Includes a floor maintenance program." – Facilities operator, Fort Lauderdale, Florida
"Standard 3 days per week for midday cleaning services for $325 per month plus an additional $10 per month for supplies." – Health care provider, Catonsville, Maryland
"$370 per month for 3 times a week cleaning. This included all cleaning supplies and twice-annual carpet cleaning." – Office Manager, West Palm Beach, Florida
"$1,800. Ceiling and walls washed, floor pressure washing on a 32,000 sq. ft. warehouse. Took two people 4 days and 6 to 8 hours per day to clean." – Wholesaler, Cumming, Georgia
"$375 per month cleaning one time per week – $160 initial clean – $400 to strip, seal and wax floors each time." – Health Care Provider, Lakewood, Colorado

So How Do Cleaning Companies Bid Their Prices?
As you may have noticed, the price of commercial cleaning largely depends on how much cleaning you need to be done and how often.
But no matter what your business is, cleaning services decide their prices based on the same few things:

Hourly or Per Job
You're more likely to pay by the hour if you need a variety of services at inconsistent times. You can also request to pay by the hour, so you don't feel shortchanged if a cleaning job doesn't take long. Or, you may agree on a flat fee to keep billing consistently for both of you.
Cost of Living in Your Town
The fact is if you operate in a busy city with a high cost of living, you're going to get charged more for cleaning services. If you're based out of New York City, for example, a business identical to yours in Tulsa, Oklahoma will pay less for the same services.
There's no way around this one. Cleaners have to charge a reasonable living wage, after all.
Competition
The good news for you big-city dwellers is you can leverage cleaning companies against each other. The more cleaning services there are to choose from near you, the more you can negotiate competitive prices.
Whether You Use Your Own Cleaning Supplies
If you know how to buy large amounts of cleaning supplies for cheap, you may be able to save some money on your hired cleaning services. Most cleaning companies that bring their own supplies will offset those costs by charging you more.
If you know your business needs deep cleaning jobs like power washing and floor polishing, this may not be realistic. You'll need to take time to do your own calculations to figure out if providing your own supplies is worth it.
Total Number of Cleaning Tasks You Need to be Finished
Whether they charge per job or by the hour, most commercial cleaning services break down their cost by the task.
What does that mean, exactly?
Well, here's how the average cleaning service might itemize their menu of cleaning tasks:
Sweeping
Mopping
Vacuuming
Dusting
Steam cleaning carpets
Steam cleaning furniture
Polishing furniture
Wiping down outside appliances
Cleaning inside and under the refrigerator and other appliances
Washing coffee cups in the break room
Emptying garbage bins
Providing new bags for all garbage/recycling bins
Restocking toilet paper
Restocking paper towels
Cleaning carpets/rugs
Changing pet litter boxes (if your office allows pets!)
Disinfecting bathrooms
Cleaning windows and mirrors
Watering plants
Organizing
Polishing floors
Stain removal
These are all offered along with any other miscellaneous service you might need.

Square Footage
By the hour or per job, the size of your office space will most definitely affect the cost of your cleaning services. The more square feet you have to clean, the more you'll pay.
Extra Effort or Special Circumstances
Every cleaning company includes an extra charge of some kind if you ask for services outside their normal range of services.
Say for example you need regular grout cleaning in your office break room. You probably won't need that service every week, but when you do request it you'll pay extra for it.
If your work-space is difficult to get to, can only be cleaned during specific times, or is otherwise challenging, you may pay extra for that as well.
Fees to Avoid When Hiring an Office Cleaning Company
For the most part, office cleaning companies don't come with a lot of hidden fees. Pricing is pretty straightforward. However, some will try to charge a "first-time" cleaning fee or ask you to provide the cleaning supplies.
Don't feel pressured to say yes to this! Although, if it's worth it to you to save per appointment by supplying your own cleaning tools, you may want to.
The major pitfall you'll want to avoid is paying for services you don't need or paying in a way that doesn't benefit your business. This is usually what ends up hurting your cleaning budget the most.
For example, if you have a small office space it may benefit you most to pay for cleaning per square foot. Paying a flat rate per hour is a better fit for businesses with too many square feet to be worth a price per square foot rate.
If your employees are tidy and you don't need deep cleaning services, or you don't need weekly cleaning, don't pay for it! Calculate how often you'll actually need the cleaning service to come by. If you and your team can handle cleaning up after yourselves most days, it could save you big time on cleaning costs.
This should go without saying, but make sure your cleaning service is insured, licensed, and bonded. On the off chance that something should get damaged or go missing, you know your bases are covered. You don't want to end up paying for what insurance should be paying for.

What to Consider Before You Buy Janitorial Services
There's no one size fits all answer to how much cleaning your office will cost. But you can assume it'll take around $320 per month for the most basic janitorial services.
Office cleaning prices will vary depending on several important factors:
How thoroughly you want your office cleaned when the cleaners arrive
How often you want your office cleaned
The size of your office space
The location of your office
The good news is, you may be able to negotiate your rates lower if there's plenty of competing services in your area.
Final Thoughts
If all of this sounds overwhelming, don't worry. We've made a quick, interactive survey that will help you find the most accurate office cleaning quote for your business. We help estimate the cost of these factors for you.
Make sure you're not getting ripped off.
For even more customized service quotes, check out how to make the most of our website here. Save big on all your major B2B purchases. You don't want to have to pay more than you need to.
Find Office Cleaning Companies Near You and Compare Up To Five Money Saving Quotes

Related Industry Terms: Business, Office, Cleaning, Janitorial, Janitors, Carpet, Trash, Floor
People That Viewed This Page Also Found These Pages Helpful:
Coffee Service
Water Delivery
Event Planning
Ice Machines
Floor Cleaning Machines