Compare
Steel Building Prices

– Calculate The Cost in 2023

Ranging from $4,500 – $46,200 the cost of steel buildings depends on the size of the building. Costs could range from $4,500 for a small steel building to well over $50,000 for a large, industrial-sized steel construction project. See how much your steel building will cost here.





What are Steel Buildings and What Do They Cost?
Steel buildings are typically used in agricultural and industrial applications, although a wide number of other industries are also adapting them to their use. The benefits of steel buildings are that they are extremely durable, require very little maintenance, and can be erected quickly in any number of custom designs. The cost of steel buildings depends on the size of the building. Costs could range from $3,400 for a small steel building to over $46,200 for a large, industrial-sized steel construction project.
See how much your steel building will cost here.

Steel Buildings Cost by Square Foot:
| Steel Building Size      | Square Footage     | Average Cost       | Cost / Square Foot |
| --- | --- | --- | --- |
| 30×40 | 1,200 Sq. Ft. | $16,100-$17,367 | $12.95 |
| 30×60 | 1,800 Sq. Ft. | $22,900-$24,000 | $12.90 |
| 40×60 | 2,400 Sq. Ft. | $25,300-$26,995 | $12.78 |
| 50×50 | 2,500 Sq. Ft. | $26,100-$28,922 | $10.49 |
| 50×80 | 4,000 Sq. Ft. | $42,500-$45,474 | $10.60 |
| 50×100 | 5,000 Sq. Ft. | $46,300-$47,525 | $9.73 |
| 60×100 | 6,000 Sq. Ft. | $54,800-$55,000 | $9.60 |
| 80×100 | 8,000 Sq. Ft. | $73,800-$75,000 | $9.46 |
| 100×100 | 10,000 Sq. Ft. | $91,999-$96,767 | $9.40 |
| 100×200 | 20,000 Sq. Ft. | $183,231-$185,000 | $9.32 |
| 150×250 | 37,500 Sq. Ft. | $344,000-$350,000 | $9.24 |

Steel Buildings Sample Costs
Below are a few examples of prices for Steel Buildings that will give you an idea of how much you will pay for your purchase.
Pre-engineered Steel Building's average cost of $18.88 per Sq ft.
12 x 6 Horse barns Cost around $2,800
10×10 Steel Storage Building typical cost for $7,500 to $9,650
30×50 Building or Workshop average cost $17,400
50×100 Steel Building average cost $20,400
Large 60×80 Insulated Steel Building Complete with Windows Average cost $44,000
Find Steel Building Providers Near You and Compare Up To Five Money Saving Quotes
The concept behind steel buildings is to forgo wood construction altogether in favor of strong, long-lasting steel. Steel buildings also come pre-engineered and ready to assemble, offering a much simpler and less labor-intensive construction process than wood.
Comparing Steel Building Prices By Top Companies
Each company provides different sizes and basic structure options, so keep this in mind when you compare the cost of steel buildings. There are many options out there to choose from when looking for a company to manufacture your steel building.
A comparison of some of the top steel building providers will help compare your building options and costs.
Olympia Steel Buildings
Olympia Steel Buildings offers options from basic structures to industrial complexes. The price depends on the size and type of structure. You can customize the building to fit any size needs.
Olympia offers a 40-year warranty on all its structures. They focus on customized building options. They are also BBB accredited.

Morton Buildings
Morton Buildings offers options for strong-built residential, farm, commercial, and community structures. They have multiple sizes and customization options to choose from. Sizes range from 24×30 to 100×80 for their basic structures.
The prices range can from $29,200 to $75,200 for their smaller structures such as garages. For residential homes, the price starts at $124,000.
They offer up to a 50-year warranty for their structures. Morton Buildings is BBB accredited.

Mueller Inc.
Mueller also offers structures for any need. Their kits start with a standard series with sizes ranging from 24×24 to 40×60. Mueller is BBB accredited.
The price for a standard series kit starts at $4,600. Depending on the size and customization options, the price can go up to $23,000. The kit options for home structures range from $30,000 to $43,000 before customization.
Mueller offers up to a 30-year warranty on their structures. They also offer limited five-year warranties on paint and other custom options.

Freedom Steel
Freedom Steel offers customizable structures for storage to commercial use. Storage buildings range from 32×42 to 60×85. The commercial and residential options can go up to 72×200 depending on your needs.
The basic smaller structures start at $14,600 to $33, 400 for the basic pre-made structure. Other options depend on custom options. Freedom Steel offers a 25-year warranty on its structures. Freedom Steel is BBB accredited.

VersaTube
VersaTube offers a carport, garage, or barn structure. Sizes range from a 12×10 carport size to 36×72 barn sizes. VersaTube is BBB accredited.
The prices start out at $1,900 for a classic carport style and carports go up to $5,000 for larger ones. For barn structures, the prices range from $1,200 up to $26,000. They also offer a 20-year frame warranty.

MBMI Metal Buildings
MBMI offers structures for any building needs. Their sizes range from 10×15 for basic storage shed to 150×250 for commercial buildings.
The smallest buildings start at $7,900. For larger structures, the price goes up to $208,000 for a pre-made building.
MBMI offers a 40-year warranty for their structures. They are also BBB accredited.

Guide To Buying Metal Buildings
If you're looking to build a new structure, one of the first questions to ask is what building material to use. Many businesses are moving to steel buildings when it comes time to start a new building project.
Steel is one of the most durable building materials available. It's also one of the easiest materials to use because you can purchase a prefabricated building to cut down on construction time. When it comes to a building project, these are important considerations.
Of course, the cost of your project is also an important consideration. The cost of purchasing a steel building will depend on many factors but may prove cheaper than building with other materials.
When comparing steel building costs understand that prices are estimates.
The cost of steel buildings may vary depending on the cost of steel at any given time. There are some basic average prices you can consider though.
Why Choose a Steel Building?
While many building projects use wood structures, there are many benefits to choosing steel over wood. Some of the benefits of steel buildings are more obvious than others.
Steel Buildings Save Time
When building with steel, you can purchase a pre-made structure to save time spent on the project. With the basic structure already in place, all you have to do is customize the building to your taste or needs. This means your project can take less than one month to complete.
Steel Buildings Hold Up
One of the biggest dangers to a structure is a natural disaster. With a steel building, you get a structure that can hold up to many of these issues. Also, unlike wood structures, steel won't rot and break down in the same way.
Steel Buildings Save Money
The durability of steel means less maintenance over time to keep your structure running smoothly. Steel buildings also save money in other ways though.
Because the structure is fire-proof, insurance premiums are less with a steel building. The energy-saving ability of steel buildings is also an important consideration. Over time you can save on utility costs.
Steel Buildings are Easily Updated
With a steel building, you can easily expand if necessary. Adding extra doors or windows is also simpler with a steel building. A steel building is also easy to relocate or even replace if necessary.
Steel Buildings are Eco-Friendly
The production of steel buildings requires less waste material to construct. You can also recycle the steel from a building no longer in use. Both of these considerations are better for the environment.
A steel building doesn't require the same treatments as a wood building, adding another point in their favor. There's no need for toxic chemicals to keep a steel structure functional.
How Much Does a Steel Building Cost?
The price of a steel building will depend on many factors. When comparing the cost of steel buildings, you will have to understand your needs for the building to get an accurate quote. Let's evaluate them:
Types of Steel Buildings
One consideration when determining the cost is the type of building you need. Steel buildings can come in many shapes and the type you need depends on what the structure is used for.
The most common structures are I-beam, C-channel, and tube buildings. Each type of building has different functions, so understanding the use for each is important.
Tube buildings are the cheapest, but they're limited in use so keep this in mind. Tube buildings are primarily for carports, though Quonset huts can fall into this category.
A Quonset hut has less usable space per square foot and requires spray insulation. A tube frame runs from $9,000 to $24,000 depending on the required size.
You can use an I-beam structure for any building need you have. These are the most durable and customizable structures available for your building needs.
Compare Prices
You can get this structure in sizes ranging from a 20×20 structure up to a 200×400 structure. Prices for the I-beam structure range from $9,200 and up depending on your needs.
The C-channel option is good for a garage or storage unit. These structures range in size similar to the I-beam structure. They can range in price from $7,950 and up.
Steel buildings are great for a carport, garage, barn, or storage unit. They're also useful for hangars, hobby shops, or any commercial building needs.
Basic Structure Pricing
While prices vary based on the project, there are some basic structure costs that can help you determine a starting cost.
Keep in mind that customization will affect these prices. The average cost of building a steel structure is $16 to $20.25 per square foot, but with customization, this can cost up to $41 per square foot.
If you start with a basic 5,000-square-foot building, the price is closer to $9.79 per square foot. Larger buildings generally cost less per square foot, so this cost drops as you move up to buildings over 5,000 square feet.
Compare Prices
To put this in perspective, a 30×40 building will cost around $11,900 before any modifications. With basic structures, you can predict costs more easily than with customized options.
For instance, a basic garage structure begins around $9,000 for a simple structure. This cost increases with size and customization. A church building will generally run $16 to $41 per square foot depending on your size and modification needs.
Factors that Affect Steel Building Prices
When comparing costs, There are many factors that affect the cost of steel buildings. Besides the size and type of structure you choose, you need to consider your building needs for regulatory and custom needs.
Understand the Regulations for Your Area
When starting a building project, it's important to understand the codes that regulate how and where you build your structure.
Each state, county, and city have its own regulations for structures. The zoning laws will also depend on whether the structure is a commercial or residential building.
Check your local zoning laws before you begin so you keep your structure within regulation. These codes and zoning laws will affect the type of structure you can purchase. They also affect the pricing for your structure as these laws may affect how the structure is built.
Customization for Your Steel Structure
Average prices for steel structures do not take customization into consideration. The basic structures have a set look, but you may need to change this to fit your needs. Some customizations that affect your price include:
Number and placement of doors.
Number and placement of windows.
Siding options.
Color choice.
Insulation needs.
For the most reliable quote on your building project, make sure you have these and any other customization needs in mind. Any changes you make throughout the process will change the prices quoted to you in the beginning.
Compare Prices
The Price of Steel
The price of steel changes regularly. This will affect the price of your building project. A quoted price should stand throughout the building process, but keep this consideration in mind. Don't rely on prices from previous years when considering your building options.
Other Metal Building Buying Considerations
When purchasing a steel building make sure you know all the specifications you need for the building up-front. The more pre-assembly done, the quicker the construction process will go.
Make sure you also research assembly options completely.
Will you have to do the assembly on-site yourself, or do they offer construction help?
Also, check their support policy to know what other support they offer in the set-up process.
The warranty is another important consideration.
Compare Prices
Warranties can range from 20 to 50 years depending on the company. The warranties will also cover different maintenance needs, so research the warranty policies thoroughly before getting started.
Check into their package options thoroughly as well. Make sure you know what comes with the kits and what materials you might need to provide.
Most reputable companies will provide all the materials necessary to assemble on-site, but check the packages before coming to an agreement.
Check their customization options as well. These considerations will change the price of the basic structures and it's important to understand their price options.
Don't get tricked by hidden costs for options you don't know aren't part of the basic price.
Remember, from 5,000 square feet and up, most companies offer price drops on their price per square foot. Make sure you understand their discount options so you can get the best price for your needs.
Making the Steel Building Price Comparison Easier
If you're not sure what to look for when comparing the steel building cost options, don't fret. There are options to make the comparison process easier.
When comparing your options, it's useful to compare based on your location, size needs, customization needs, and building types in one quick comparison.
If you need help finding the option that's best for you, check out our quick steel building price comparison guide.
Compare Prices
What to Look for in a Steel Building
When buying a steel building, select a product that is pre-engineered to make assembly as simple as possible. The more work that is done before the building arrives, the lower your assembly costs and efforts will be. In addition, look for a company that has very high standards and pre-shipping inspections integrated into its manufacturing process. This ensures that your components will be the right size and engineered correctly when your order arrives.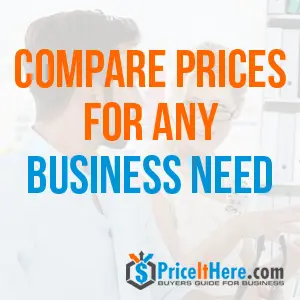 Examine the warranty carefully on steel buildings. The best manufacturers will stand behind their products with an incredible degree of commitment, some offering warranties on certain elements of the structure that last up to 50 years. Manufacturers who show they are willing to stand behind their product speak to the quality of their buildings.
Looking into the support that the company offers its customers is also an important part of the selection process. A good company will have a logistics department that can help you arrange for the timely delivery of your buildings in order to complete construction according to your deadlines. Good customer support that is available to answer any questions you might have is also very important.
Finally, the best companies offer a total packaged solution. Their buildings show up with every single thing that you need to complete construction included in your order. This is superior to companies that only sell components of buildings, as these require a great deal more engineering knowledge and care in order to create a solid and reliable building. Manufacturers who offer complete packaged solutions sell products that require very little additional thought or design, and come ready to erect as soon as they come off the truck.
Compare Prices
Other Add On Costs to Consider:
| Item | Approx. Cost |
| --- | --- |
| Material Delivery | add 6-10% |
| Windows, doors etc. | add 7-25% |
| Foundation | add $6/sq ft |
| Construction | add $7/sq ft |
Steel buildings come in many different shapes and sizes- most of which offer the perfect fit for your needs. You can choose between a straight-walled or rigid frame building, with masonry exterior finishes (if desired) that will last through time as well provide aesthetics to match any style. Building materials average $9.23 sq ft per square foot on larger buildings such as 80×100 sizes up to $13/sq ft if you're looking at something considerably smaller like 30″ x 40″.
The steel building shell is an important part of any home. It's where you will spend most of your time and it needs to be comfortable, safe & aesthetically pleasing. But what about all those add-ons like doors/windows? These prices account for them so remember that when adding on extra costs such as installation or delivery; they're included in these estimations but don't forget everything else too- accessory items can really pile up quickly. Building the steel structure yourself eliminates labor entirely which means less money spent potentially down to single digits per sq ft. In general labor costs will also run you about $8 a square foot.
Compare Prices
Quonset huts are another choice in prefabricated buildings. They have arched roofs, which make them durable and strong; these qualities also help increase the stability of the arch when assembled together with straight walls for added support. Quonsets cost less than other types because they require fewer materials: $9/sq foot before accessories like accessory brackets or flooring installation starts up again.
The Benefits and Drawbacks of Investing in a Metal Building
Metal buildings have become increasingly popular in recent years, with many investors considering them as a viable option for a variety of purposes. From commercial warehouses and manufacturing plants to residential homes and garages, metal buildings are versatile and have many benefits. However, there are also some drawbacks to consider before investing in a metal building. In this article, we will explore both the benefits and drawbacks of investing in a metal building.
Benefits of Investing in a Metal Building:
Durability and Longevity: Metal buildings are known for their durability and long life. They can withstand harsh weather conditions such as high winds, heavy rain, and snowstorms, making them ideal for areas with extreme weather patterns. Metal buildings are also resistant to pests, such as termites, and are less prone to mold and mildew growth.
Low Maintenance: Unlike traditional buildings, metal buildings require minimal maintenance. They do not require painting or re-roofing, and the metal panels used in their construction are easy to clean and maintain. This makes them a cost-effective option in the long run.
Energy Efficient: Metal buildings are energy-efficient, as they reflect heat from the sun and retain warmth in the winter, reducing the need for heating and cooling systems. This can lead to significant energy savings over time, making metal buildings an eco-friendly option.
Customizable: Metal buildings are highly customizable and can be tailored to suit specific needs. They come in various shapes and sizes, with different designs and finishes, allowing investors to create a building that meets their exact specifications.
Cost-effective: Metal buildings are generally less expensive than traditional buildings. This is because they require less labor and materials to construct, making them a cost-effective option for investors on a tight budget.
Drawbacks of Investing in a Metal Building:
Limited Aesthetics: Although metal buildings can be customized to some extent, they are limited in terms of aesthetics. They are not as visually appealing as traditional buildings and may not be suitable for some investors who value aesthetic appeal.
Noise: Metal buildings can be noisy, especially during heavy rain or hailstorms. The metal panels used in their construction can amplify noise, which may be a concern for investors who require a quiet environment.
Condensation: Metal buildings are prone to condensation, which can lead to moisture buildup and corrosion. This can be addressed through proper insulation and ventilation, but it is an additional consideration that investors need to keep in mind.
Limited Resale Value: Metal buildings have a limited resale value compared to traditional buildings. This is because they are often seen as utilitarian structures and may not have the same level of appeal as a traditional building.
Permits and Zoning: Obtaining permits and complying with zoning regulations can be challenging when investing in a metal building. Investors need to ensure that their building meets all local regulations and codes before construction begins, which can be a time-consuming and complex process.
Investing in a metal building can be a great option for investors who value durability, low maintenance, and cost-effectiveness. However, it is important to consider the drawbacks, such as limited aesthetics, noise, condensation, limited resale value, and zoning regulations, before making a decision. By weighing both the benefits and drawbacks, investors can determine whether a metal building is the right choice for their specific needs.
Compare Prices
Exploring the Cost Benefits of Metal Buildings for Agricultural Use
Metal buildings are becoming increasingly popular for agricultural use due to their cost-effectiveness and durability. Here are some of the cost benefits of metal buildings for agricultural use:
Lower construction costs: Metal buildings are less expensive to construct compared to traditional building materials like wood or brick. This is because metal buildings are prefabricated and can be easily assembled on-site, which reduces labor costs and construction time.
Minimal maintenance costs: Metal buildings require minimal maintenance compared to traditional building materials. They are resistant to pests, mold, and weather damage, which means that they don't need regular repairs or upkeep.
Energy efficiency: Metal buildings can be designed to be energy-efficient by using insulated metal panels that reduce heat transfer and keep the building cool in hot weather. This can help reduce energy costs associated with cooling and heating the building.
Long lifespan: Metal buildings are durable and can last for many years with minimal maintenance. This means that agricultural businesses can save money on replacement costs in the long term.
Flexibility: Metal buildings can be customized to meet the specific needs of agricultural businesses. They can be designed to include features like ventilation systems, insulation, and lighting, which can help improve productivity and reduce operational costs.
Resale value: Metal buildings have a high resale value, which means that agricultural businesses can recoup some of their investment if they decide to sell the property in the future.
Overall, metal buildings are a cost-effective and durable solution for agricultural businesses. They offer lower construction costs, minimal maintenance costs, energy efficiency, a long lifespan, flexibility, and a high resale value. These benefits make them an attractive option for farmers and ranchers who need a reliable and cost-effective building solution for their operations.
Compare Prices
People That Viewed This Page Also Found These Pages Helpful:
Construction Trailers
Steel Shipping Containers