How Much Do
Postage Meter

Cost in 2023?

Postage meters cost $35 – $400 a month to rent and prices vary by the number of packages mailed per day, scale or meter type, and other features. Calculate your cost from local suppliers. Start Here.





Postage meters on average can cost $160 a month to rent and prices vary by the number of packages mailed per day, scale or meter type, and features like integrated address book, account codes, and thermal printing.
How much will a postage meter cost your business in 2021? We evaluated all the top companies to rent postal meters from, and in this guide, we list them to help you find the right equipment.
U.S. Postal service estimates that it will deliver  146.4 billion pieces of mail in 2018. Even though mail is just a fraction of the total communications a person receives daily, it remains important.
Written communication remains the business standard for formal notices, important information, bill collection, and more. Mailing written communication protects your legal standing.
Here a List of Postage Meters and Rates:
Compare Postage Meter Rates and Companies
Data Pac
Data Pac is the first authorized dealer added to the list of approved postage meter suppliers by USPS in the last 25 years. They are not a new company, however. They have a 35-year history of supplying mailing machines, inserters, and folders to the mailing industry.
The Data Pac America 2 caters to businesses of all sizes with different mailing requirements. Data Pac specializes in software and hardware solutions for small, medium, and large volume mailers. Data Pac does not publicly publish its rates. Ask for a quote.

Stamps.com
Stamps.com is not really a postage meter company. Instead, the service allows you to print postage using your own printer. The monthly cost for this service is $15.99. You pre-pay postage and use your own existing office equipment.
You do have some of the advantages of a postage meter, such as online postal purchases and customizable graphics. However, you must purchase your own postal scale. There is no large lease or long-term commitment to Stamps.com. It is strictly pay-as-you-go.

Neopost
Since 1924, the French company Neopost has been providing postal machinery to the world's largest companies. In the U.S., more than 50,000 large and small businesses use Neopost postal meters. Neopost U.S.A. also distributes Hasler postage meters.
The lowest cost, low volume Neopost IS-280 is $19.75 a month plus supplies like ink and labels. You can expect around $40 a month plus your postage costs.

Pitney Bowes
Great-Grandaddy of all postal meters is industry behemoth Pitney Bowes. It's the #1 company as far as size, with more than $5 billion in revenues annually. They manufacture and service hardware, software, and complete mailing center/postage meter solutions for businesses of all sizes.
For a low mailing volume, the smallest machine, the MailStation2 is a sensible choice. Monthly rental is a competitive $19.99 per month and supplies plus fees and taxes drive the monthly amount to around $77.00 per month.

FP Mailing Solutions
Chicago-based FP Mailing Solutions uses a network of independent distributors to service their clients. Their PostBase Mini is the smallest digital postage meter available on the market. Just a foot wide and 8 inches deep, this little powerhouse processes 17 letters per minute.
The PostBase system is modular. The PostBase One can expand to include scales, folding, and other material handling. The monthly cost for the FP PostBase Mini is competitive with Neopost and other dealers, but the better deal is the FP PostBase Econ. It can move 20 LPM, but is modular and can expand as your business expands.

Hasler Postage Meters
Founded more than 40 years ago, Hasler provides postage machines to a cross-section of American businesses. Neopost acquired Hasler in 2009 and has since expanded.
Leases for the entry-level Hasler postage meter are around $25 a month.

What is The Difference in Stamped and Metered Mail?
The cost to send a standard size letter (one ounce) will be $0.55 in 2021 Each additional ounce will cost $0.15.  If you are using a postage meter (Metered Mail), your cost is $0.50 with each additional ounce costing $0.15.
Metered Mail costs 9% less because of digital information encoded in your printed mark. This information allows your mail to be automatically processed by USPS machinery. This reduces the USPS costs and they pass these savings on to you.
Metered mail weight is also accurately measured, so no over or underpayments based upon stamps.
Why Get a Postage Meter?
If you send more than 100 letters a month, you can save money with a postage meter.  These time-saving machines weigh and print postage accurately onto your outgoing correspondence. You purchase and prepay postage online and download it directly to the meter.
We talked about the benefits of time and cost when getting a postage meter, but there are more:
Mail processing time lessened
Accurate weighing and up-to-date postage calculation
Optional extras
Personalized, branded postage labels
If your small business mails more than $50 a month worth of correspondence via USPS, you'll benefit from investing in a postage meter. Think of the lost time now spent in a queue at the post office for processing.
How Does a Postage Meter Work?
A postage meter is a business tool to streamline mailing operations and reduce postage costs. There are postage meters suited for business mail volume of all sizes, not just business behemoths sending volumes of mail.
Postage meter machines are meant to print the indicia (stamp or frank) directly on the envelope or on an adhesive tape. The smallest machines are rated for a hundred or fewer pieces of mail per month. The very largest machines can print postage for hundreds of pieces per minute.
When you get a postage meter you will fill the machine with a preset amount of postage. As you print indicia the machine uses the prepaid postage and prints some encoded information into the mark. This info contains the postage amount, weight, zip codes and tracking information.
All postage meters are digital. Older, non-digital models have been phased out.

What Are the Types of Postage Meters? 
To determine the best type of postage meter for your business, consider the size of your business and the amount of mail you send. Most postage meters include the ability to print postage for any type of mailing (domestic or international.) They also have online refillable postage.
Low Volume Postage Meters
Businesses that send about 35 or fewer items per week are suited to a low volume meter.  These meters have a speed of around 20 to 40 letters per minute (LPM), an integrated scale (10 lbs. max), and customizable postage graphics.
Medium Volume Postage Meters
Larger businesses that send a few hundred pieces of mail per week need semi-automatic meters. Medium volume meters are can handle different shaped and sized mail. They have a speed of 100 to 200 LPM and customizable postage graphics.
They also have a built-in scale (15 lbs. max.) Some have an optional 100 lbs max scale.
Largest Volume Postage Meters
For the very largest mailroom volumes, there are fully automatic machines. These devices have the most functions and automations. The integrated scale weighs parcels to a maximum of 15 lbs. An optional external scale increases that maximum to 150 lbs.
Like smaller machines, these allow you to create custom postage graphics. These machines process 100 to 350 LPM.
Why Can't I Buy a Postage Meter?
With all of the positives listed so far, you probably want to rush out and buy a meter right now. Unfortunately, you can't. Postage meters can only be rented or leased in the U.S.
The USPS regulates all postage meters under federal law.  Postage meters are manufactured and distributed by authorized dealers only.  This is for security, as postage is a form of U.S. currency.
Fees to Avoid When Renting USPS Postal Meters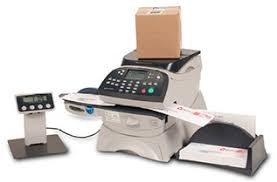 In a typical postage meter rental, you'll sign a contract for at least a year or two, plus pay a monthly rental fee. In addition to the monthly rental, there are some additional fees to consider.
Postage (actual use)
Insurance (on the machine itself)
Online postage refill
Postage tape or labels
Ink (some meters require special ink)
Postage reset or reprogramming
Machine extras (folders, sealers, stuffers, etc.)
Taxes
Some fees, like actual postage and taxes, are unavoidable. But shop around to avoid extra surprises.

US Mail Vs Email
A neatly printed letter, sent by post, is still the premier form for formal business communications. With text calls to action,  email marketing, and even old-fashioned bill-collection faxes, how is mailing a letter still the standard?
Preservation and permanency are the primary reasons. For those people questioning that, think of contracts and records of the early 2000s stored on CDs or DVDs.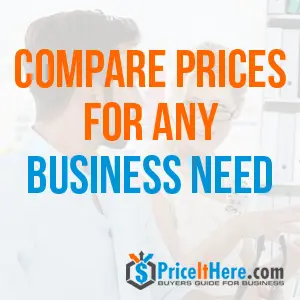 Do you still have a machine in your office to read them? How about a floppy disk? 3.5″, 5.25″ or 8″ version?
You need no special equipment to read a letter. It is easily referred to if necessary. Letters last as long as the paper and ink don't degrade. With proper storage, this is hundreds of years before they are no longer legible.
Other than chipping your legal documents into stone, nothing is more long-lasting.
Why Send Letters by USPS?
You have many choices when it comes to getting your written communication where it needs to go. There's FedEx, UPS, DHL, and more. Why use USPS in 2021?
Simple answer: It's still the most cost-effective way to go. The USPS cost per mile is less than half that of FedEx.
USPS delivers to a larger geographical area than any other form of postal service. Ounce for ounce, letter delivery by post is a bargain. Contrast this with other services.
Some services do not deliver to rural areas or to certain neighborhoods. A single letter sent from anywhere in the U.S. to anywhere in the U.S., including Alaska and Hawaii costs just $0.50 by USPS.
How Much Does It Cost to Rent a Postage Meter? 
Postage meter rental cost is a function of its LPM capacity and the length of the rental contract. Add any extras to your basic machine to get a good estimate.
You might find the low-volume machines start at around $27 to $45 a month. The highest volume of machines reach over $1,000 per month. You increase these numbers, of course, if you opt-in to include any additional extras like letter folders and inserters.
Postage meter rental shows in your accounts as a lease expenditure, so it's a tax-deductible expense.

What to Look For in Postage Meters
The number one priority for finding the right meter for your business is your mail volume. Match your shopping price comparisons with the manufacturer's models rated for your needs. Here's a list of five other items you should look for when leasing a postage meter:
Cost: Make sure to compare the costs of different postage meter leases and determine which one offers the best value for your business. This should include not only the monthly lease fee, but also any additional fees or charges, such as setup fees, maintenance fees, and fees for exceeding monthly usage limits.
Features: Determine which features are important for your business and make sure the postage meter you are considering has them. Some features to consider may include the ability to print various types of postage (such as first-class, priority, and international), the ability to print postage for different types of mail (such as letters, flats, and parcels), and the ability to track and report on your mailing activity.
Compatibility: Check to see if the postage meter is compatible with your business's existing equipment, such as computers and printers. You'll also want to make sure that the meter is compatible with any software or other systems that you use to manage your mailing operations.
Ease of use: Consider how easy the postage meter is to use, both in terms of setup and daily operation. If you have a large volume of mail to process, you'll want a postage meter that is efficient and easy to use to help save time and reduce the risk of errors.
Customer support: Make sure that the company offering the postage meter lease has a good reputation for customer support. Look for a company that offers fast and reliable support, both online and over the phone, in case you have any questions or issues with your postage meter.
Look for software-driven, internet-capable meters. A longer lease or rental agreement often improves postage meter rates. With a software-driven machine, changes in postage rates or rules are easy to correct.
Watch out for fees. While the monthly rental of each meter is largely competitive, there are several fees that hide in the contract. In addition to your postage, expect to pay for ink, labels, insurance, taxes, etc.
Some contracts will charge a fee for each software update or postal rate change. Be sure to include ongoing fees with your monthly cost estimates. A low-volume machine for small businesses can run anywhere from $30 to $78 a month.
Use our tool to contact representatives and compare prices.
Looking for Something Else?
Now that you've taken care of postage meter rates for your business. Consider looking into coffee service, office cleaning, or other business niceties with us.  We provide free and impartial comparisons of vendors and prices.
Poster Meter Sample Costs
Below are a few examples of price facts for digital postage meters which will give you an idea of how much you will pay for your purchase.
Postage meters can't be purchased and the only be rented or leased.
$74 average cost to buy black ink cartridge refills.
$277 Average cost to red ink cartridge refills.
Postage tape sheets cost between $40 to $45 for 50 tapes.
Related Industry Terms: Stamps, Postage Machine, Meter, Shipping, Mail, Packages, Franking, Online, Office Mail
Find Postage Meters Near You and Compare Up To Five Money Saving Quotes

People That Viewed This Page Also Found These Pages Helpful:
Letter Folders
Addressing Equipment & Software
Article Sources:
https://www.statista.com/statistics/320234/mail-volume-of-the-usps/
https://about.usps.com/news/national-releases/2018/pr18_086.htm
https://missoulian.com/news/state-and-regional/as-fedex-ups-slug-it-out-rural-delivery-service-at/article_bc22015a-87a3-11df-9c48-001cc4c002e0.html