Compare 
Commercial Ice Machine Prices

– BUYERS GUIDE 2023

In 2023 Small ice makers can start as low as $1300, and some large ones can easily cost $5,999 or more. Pricing varies by a solution such as under-counter, flake ice makers, and countertop products.

Commercial ice makers are industrial-strength machines built to create large quantities of ice in a relatively short time frame. These types of machines often show up in hotels, bars, restaurants, and other facilities where there is large customer demand for ice on a regular basis.
Commercial Ice Makers Cost Explained
Often, people will visit a restaurant based on a recommendation. They look forward to the meal. However, drinks also play an important part in the experience.
Most beverages require ice. They don't taste right without it. Some people even choose certain restaurants based on the ice the facility uses.
If you operate any kind of food and beverage facility, a commercial ice maker is a necessity. However, it may surprise you to find out that there are many kinds of ice makers that can meet your needs.
Examples of Ice Maker Costs
Hoshizaki 320 Lb Air Cool Ice Maker


Price Range $4,200 – $4,660
Follett SG3900-72 72″ Double Door Upright Ice Bin – 3940 lb.


Price Range $16,500-$19,960
Scotsman B322S


Price Range $800-$975
Manitowoc UYF-0140A NEO


Price Range $1600 – $1999
Manitowoc IDT1500A Indigo NXT 48″


Price Range $5,999-$7,100
Ice-O-Matic CD40022 22″ Wide Hotel Ice Dispenser 120 lb.


Price Range $2,500-$2,800
Types of Ice-Making Solutions
When searching for a commercial ice maker, it helps to understand the different kinds of ice. Commercial ice makers primarily make three kinds of ice—cube, flake, and nugget.
As its name implies, cube ice is standard square-shaped ice. Nugget ice is about half the size of cube ice. It gets chewable as it starts to melt.
Flake ice is the smallest form of ice. It's flatter than nuggets.
You can also choose a machine that makes specialty ice. For example, Hoshizaki manufactures specialty machines that make crescent-shaped ice. Meanwhile, Ice-O-Matic commercial ice machines make shot glass shaped ice cubes.
Some commercial ice maker manufacturers are leaders in the field. For example, some ice nugget makers can churn out up to 1,400 pounds or more of ice every day.
You may also want to consider the ice machine size. For example, you may have a small restaurant.
In that case, you might want a modular ice maker. A modular ice maker has a smaller footprint compared to other commercial ice machines.
Types of Commercial Ice Makers
There are three primary kinds of commercial ice makers—modular, remote condenser, and under-counter. With a modular machine, manufacturers include the condenser and ice maker together in one unit.
You may hear this kind of unit called a head unit. It might come with either an air- or water-cooled condenser.
However, a remote condenser model offers an advantage. You can install the condenser away from the ice maker. This installation will decrease the noise that the ice machine generates near the dining area.
Finally, you may need an ice machine for bar service. In that case, you'd want an under the counter commercial ice machine.
This kind of ice machine is compact. It can produce between 30 and 100 pounds of ice per day. Typically, you'd also select a storage bin that might hold 20 to 50 pounds of ice at a time if you choose this kind of unit.
Commercial Ice Maker Costs
It helps to have a general idea of ice machine prices. Commercial ice makers are heavy-duty, industrial machines. They can stand up to significant wear and tear. More importantly, they can create a lot of ice in a relatively short period of time.
For this reason, you'll often see commercial ice makers and bars, hotels, and restaurants. In fact, anywhere where there's a large demand for ice, you'll typically see a commercial ice maker.
A commercial ice maker can cost as little as $1,299. However, a large machine can cost $16,000 or more.
Often, a commercial ice machine is a considerable investment. The cost of a commercial ice machine depends on several factors. However, it's important to put the cost of purchasing an ice machine in perspective.
If you own an event planning company, for instance, ice can usually consume as much as 16% of your budget. Comparatively, the average commercial ice maker costs around $1,600. Meanwhile, the typical under-counter ice machine might cost about $1,900.
A large ice machine may cost around $6,760. However, it might produce about 1,300 pounds of ice per day or more.
On the other end of the cost spectrum, a small commercial ice machine can cost around $1,200. Meanwhile, a 65-pound under-counter ice maker can cost approximately $1,750. In time, a good commercial ice machine can pay for itself.
Top Commercial Ice Maker Brands
There are a few commercial ice machine manufacturers that lead the field. If you want a leading commercial ice machine, you might consider one of the following:
• Follett
• Hoshizaki
• Ice-O-Matic
• Manitowoc
• Maxx
• McCall
• Scotsman
• U-Line
These manufacturers design and build high-quality products. Their offerings are well worth the investment.
Furthermore, they offer a range of commercial ice maker configurations. You might find a built-in, countertop, or under-counter solution from any one of these great manufacturers. You can also choose units among each manufacturer that make a range of ice types.
With this in mind, it's helpful to know a bit more about various manufacturers.
Ice-O-Matic
Ice-O-Matic designs and builds a groundbreaking series of machines. The company's ice makers use the latest cutting-edge technology.
Furthermore, they're easy to maintain. For example, Ice-O-Matic units feature safe dishwasher parts.
You can order Ice-O-Matic commercial ice machines in a variety of configurations. You can also have an Ice-O-Matic ice machine custom-built to suit your needs.
Ice-O-Matic ice machines feature proprietary dual exhaust technology. This feature provides considerable flexibility during installation. It allows you to vent hot air from either the side or top of their machines.
Hoshizaki
Hoshizaki is another leading commercial ice machine manufacturer. The company makes a series of high-capacity stackable machines.
You can stack Hoshizaki commercial ice machines two units high. Alternatively, you can stack them side-by-side. Together, the machines can produce a whopping 7,776 pounds of ice every day.
Again, Hoshizaki commercial ice machines produced crescent-shaped ice. You'll typically see this kind of ice in bars and restaurants. You might also see it at concession stands.
The ice that Hoshizaki machines produce is hard and clear. It's perfect for professional food service. Furthermore, you can select an optional storage bin to hold large quantities of ice.
Maxx Ice
Maxx Ice specializes in designing and building straightforward, simple commercial ice machines. Still, the company also uses cutting-edge technology. Maxx Ice designs its machines for optimal commercial performance.
The manufacturer's ice machines are also Energy Star rated. For this reason, they'll consume up to 40% less energy compared to other commercial machines. Maxx Ice commercial ice machines also produce up to 20% more ice compared to other units on the market.
Furthermore, the company engineers its ice machines to withstand harsh conditions. For example, you may have a seaside dining establishment. If so, Maxx Ice commercial ice machines are up to the task.
Manitowoc
Manitowoc is another leading manufacturer of commercial ice machines. The company's machines make crystal clear cubes. Additionally, Manitowoc commercial ice machines provide maximum cooling efficiency.
The company also makes a series of flake ice machines. Manitowoc flake ice machines are sure to please your guests. This line of commercial ice makers delivers small, soft pieces of ice.
You can also purchase a Manitowoc nugget ice machine. This kind of ice machine produces ice that's softer than a standard cube. Moreover, it's perfect for serving blended drinks.
Scotsman
Scotsman also manufactures a range of commercial ice machines. The company is a leader in providing high-volume solutions for foodservice.
Also, they have hundreds of products in their commercial ice service line. For this reason, you're sure to find one that suits your needs if you choose to buy a Scotsman model.
The company's classic cube ice machine is a long-standing bestseller. Foodservice operators of all types choose Scotsman for their venues.
The Scotsman is also popular among restaurateurs. Restaurant owners appreciate the brand for its low operating cost.
Finally, Scotsman also makes a series of flake ice machines. This line of ice machines is ideal for producing soft, slow-melting ice.
Choosing Commercial Ice Makers
Obviously, you don't need ice for hot beverages such as coffee. Nevertheless, when running a restaurant, it's vital to maintain an abundance of hard, clear ice. Choosing the right ice machine is a big decision.
For this reason, there are a few things that you should consider before you start to shop around. Firstly, you should consider how much ice you'll need every day.
You'll also need to consider the working environment. For instance, you may operate a restaurant in a hot climate. If so, you'll need a machine that can withstand harsh conditions.
In addition, you'll need to consider ice machine maintenance. In most instances, you'll want to look for a machine that's easy to install and clean.
Finally, you'll need to consider the cost of ownership. Accordingly, you'll need to investigate how much it will cost you to on a particular brand of commercial ice machine over time.
Compare Commercial Ice Makers the Easy Way
Now that you have reviewed the ultimate buyer's guide to commercial ice makers, you should have a better idea of what machine to choose for your establishment. What you need now is an easy way to compare equipment quotes.
Price It Here makes it easy to have top-quality suppliers come to you. Furthermore, you can use Price It Here to save up to 40% on your equipment purchases.
To begin, you'd simply select the product that you desire. Next, you can review convenient buying tips and average cost information. Most importantly, you can start receiving accurate, fast, and free quotes!
PriceItHere.com can save you time and money. Browse our categories today to start avoiding the hassle and headaches of sourcing the supplies that you need to succeed.
Most commercial ice makers include at least two major components as part of a single machine. The first is the ice maker itself, which creates the ice cubes. The second is the cooled storage unit where the ice can be stored without fear of it melting until it is needed. This allows you to have a ready supply of ice at all times that can be replenished quickly.
What to Look For in a Commercial Ice Machine
The size of the storage compartment is something that you should always consider. If you ever have the need for a large amount of ice quickly, you want a machine with the capacity to have a stockpile ready to go at any moment. The larger machines can hold well over 100 lbs.
There are also different types of ice makers on the market. Most of the machines produce traditional ice cubes, but there are those that also make ice flakes or chips instead. These are the types of machines often purchased by hospitals, or by companies that need ice for industrial use.
Ice machines are expensive to run because it takes a lot of energy to cool down water that quickly. One way to save some money on your energy bill is to opt for an air-cooled unit instead of a water-cooled one. However, there is a trade-off, as the more efficient machine is also the louder of the two options. If you need to use the machine in an environment where maintaining quiet at all times is important, you may have to incur the extra utility cost and opt for the quieter, water-cooled unit instead.
Regardless of which machine type you choose, you should still check the specifications of the unit to try and find a more economical machine. Most manufacturers will offer some sort of specification listing that indicates how much energy is consumed to make ice. A high-energy cost can significantly impact the overall operating cost over the life of the machine. If you don't see this listed, you can also just look for Energy Star-certified ice makers. Energy Star approves certain machines when they are manufactured to meet predetermined efficiency thresholds.
Top Commercial Ice Machine Suppliers
The top suppliers/brands belong to Ice-O-Matic, McCall, Manitowoc, and Scotsman, however, there are a number of other high-quality manufacturers with great products at a great price.  Here is a list of other Ice Machine companies to consider: Maxx, Follett, Hoshizaki, and U-Line. The dealers carry under-counter solutions, Built-in, counter-top, and produce both nugget and flake ice.
Commercial Ice Machines Service Sample Costs
Below are a few examples of prices for Ice Machines which will give you an idea of how much you will pay for your purchase.
16% of Event spend an average rate for Planning
$1,700 average cost of a standard commercial ice maker
$1,610 Cost For Ice-O-Matic HISU050FA Under Counter Ice Machine
Hoshizaki makes 1,300 lbs of ice per day cost around $6,200
Edge Star IB450SS Ice Cube Maker Stainless Steel $350
$1,980 Scotsman Cu50GA 65 lb Self-Contained Under Counter Ice Maker
Save on Ice Makers and Compare Up To Five Competitive Quotes

Commercial ice makers are a convenient and cost-effective way to increase the efficiency of your business. They provide an unlimited supply of clean, fresh ice for use in drinks and food preparation. Ice makers can be used in restaurants, bars, convenience stores, hotels, catering facilities, hospitals, and many other commercial establishments. Commercial ice makers come in a variety of sizes, so you can find the perfect model for your specific needs. They are a long-term investment, providing greater efficiency and cost savings over time.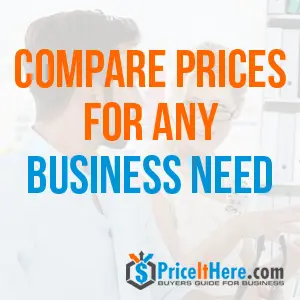 With a commercial ice maker, you can ensure that your customers always have access to cold drinks or food on demand. Commercial ice makers are energy and water efficient, designed for easy maintenance and cleaning. They are also equipped with advanced safety features and built with durable, high-quality materials to ensure long lasting performance. With a commercial ice machine, you will have the benefit of consistent supply of fresh, clean ice for your business needs. Choose from a range of models with various sizes and capacities to meet your unique requirements.
How to Choose the Right Size Commercial Ice Maker for Your Business
Choosing the right size commercial ice maker for your business can be a daunting task. There are many factors to consider, such as how much ice you will need in a day, the type of machine that is best for your needs, and what will fit into your budget. Fortunately, there are several resources available to help you make the best decision for your business.
The first thing to consider is the volume of ice you will need each day. Larger businesses may have a need for more than one machine, while smaller ones may only require one machine to meet their needs. The type of ice maker that best meets your needs should also be taken into consideration. There are various sizes and types of commercial ice makers, including cube and flake machines.
The size of the machine should also be taken into consideration when deciding which ice maker is right for your business. Make sure that you measure the area where the machine will be placed to make sure it fits comfortably as well as allow enough room for a hopper or tank to be securely attached.
The overall cost of the machine is another important factor to consider when choosing a commercial ice maker. There are several sizes and types available, so make sure you compare prices before settling on one particular model. If possible, try to get an estimate of how much energy the machine will use before making your purchase as this will help you determine how much it will cost to operate on a daily basis.
Finally, make sure that the machine comes with a warranty as this can protect your investment in case something goes wrong. Most manufacturers offer warranties of at least one year and some may even include parts and labor costs in their coverage.
By taking these factors into consideration, you can make an informed decision when it comes to choosing the right size commercial ice maker for your business. With a bit of research and careful comparison shopping, you can find just the right machine that meets your needs and budget.
People That Viewed This Page Also Found These Pages Helpful:
Coffee Service
Water Delivery
Event Planning
Office Cleaning Services
Floor Cleaning Machines