How to Choose the Best Commercial Janitorial Services for Your Business in 2022
According to a study conducted in 2014, researchers found that a virus sample placed on an office's tabletops and doorknob spread to up to 60% of visitors and employees within 2-4 hours.
Unfortunately, it's often difficult to find time for much else between ensuring that the building is clean and organized and meeting all safety codes. That's why it's so important to choose the best commercial janitorial services in 2022.
By hiring a professional team to take care of your janitorial needs, you can focus on what you're good at—running your business. Unfortunately, most business owners don't know how to choose an exemplary cleaning service for their premises.
COMPARE QUOTES
If you're among them, then this article is for you. Below are ten tips for choosing the right company to take care of your commercial cleaning needs:
Do Your Research
The first step in finding the best commercial janitorial services is to do some research. With so many companies out there, you must take the time to find one that best meets your needs.
You can start with a search on Google about janitor services near you. Once you list a few companies you like, you can look at each company individually. Please go through the companies' online presence, social media pages, and websites to learn more about their services.
Who are they? Where do they operate from? What is their company mission and vision?
During your research, answer all these questions to better understand who you are working with. Doing your homework well will protect you from future disappointments.
If you find companies that don't fit into what you need, you can cross them off your list and move on to the others.
Ask for Recommendations From Other Companies
Another great way to find the best commercial janitorial services is by asking for recommendations from other businesses. Other business owners will have had experience with different companies and can recommend one that's perfect for you.
They may even know of a company that doesn't offer its services to the public. This is an excellent opportunity to get in touch with these companies.
Conduct Thorough Background Checks
One of the best ways to figure out if a company is right for you is to conduct thorough background checks on them. This means looking into their business and how they handle clients.
Conducting a background check helps you verify that the company is who they say they are. You can do this by checking the company's history to understand better whether they are a right fit fr you. Ask as many questions about the company as possible.
If anything looks suspicious or raises a red flag, it's best not to do business with that company.
Check If They Meet Your Requirements
Not all janitorial companies are the same. Some may specialize in certain services, while others offer a more comprehensive approach. Before settling on any one company, make sure they meet your specific requirements – whatever they may be.
If, for example, you need a company that can provide 24/hour service, then make sure to choose one that offers this. Or, if you're looking for a green cleaning company, make sure to specify this in your search.
Knowing what services you need before settling on one company is essential.
Set a Cleaning Budget
When looking for commercial janitorial services, you must have a budget in mind. This will help narrow down your options and make the decision-making process more manageable.
Think about how much you're willing to spend on cleaning services and compare this with what different companies are charging. If there's a significant discrepancy, it may be best to look elsewhere.
Get Multiple Quotes
The cost of commercial janitor services varies from one company to another. Therefore, it's always best to get multiple quotes before settling on one company. And commercial janitorial services are no different.
This will help give you a better understanding of the market rate and how much each company charges for its services. It also lets you see who offers the best deal and has the most comprehensive package. Comparing quotes can be time-consuming, but it's worth it in the end.
This will give you a better idea of what you can expect to pay for their services. Don't forget to ask about any hidden fees or additional charges they may not have included in the initial quote.
COMPARE QUOTES
Check Online Reviews
Online reviews are another valuable source of information when looking for the best commercial cleaning services. They give an honest account of someone's experience with a particular company.
This is especially helpful if you can't seem to find any personal referrals. Reading online reviews also allows you to see what others are saying about specific services offered.
It's important to keep in mind that not all reviews are genuine. The company itself may plant some fake reviews to get more sales. So, it's always best to take online reviews with a grain of salt.
Check Their References
It's also essential that you check the references of any company. This is one of the best ways to get an accurate idea of what it's like to work with them.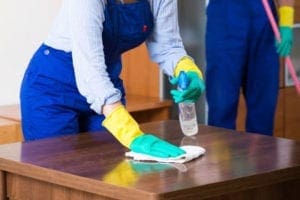 The company should provide you with a list of references from past and present clients. If they're unwilling or unable to do this, it's best not to move forward with them.
Once you have a list of references, reach out to them and ask about their experience working with the company. Find out if they were satisfied with the services provided and if they would recommend the company to others.
You can also ask for pictures or videos of their work to see for yourself how well they clean.
Check the Services They Offer
Before hiring a commercial cleaning service, ensure you check the type of services they offer. However, you should start by determining your business needs before looking for the right janitor service.
Some of the most common services you may need include:
Carpet/floor maintenance
Janitorial services
Vacuuming
Mirror and window cleaning
High-pressure cleaning
Dusting
Emptying trash
Disinfecting
Ensure you find a company that offers the above services. While many companies provide almost the same services, some focus more on certain services than others. For instance, some companies specialize in high-pressure cleaning instead of janitorial services.
Check Their Busines Accreditation
Another way to ensure you're working with a reputable company is to check their business accreditation.
Many professional organizations offer accreditation to companies that meet specific standards. This means the company has been vetted and found to be up to par with the organization's requirements.
These organizations include the Better Business Bureau (BBB) and Green Seal. Checking if the company is accredited by one or more of these organizations can give you peace of mind.
Have They Worked With Other Companies in Your Industry?
If you're in a specific industry, it's best to find a company that has experience working with businesses in your field.
For instance, if you own a restaurant, you'll want to hire a company that has experience cleaning restaurants. This is because they'll know the right products and methods to use when cleaning areas like the kitchen and dining area.
They may also have knowledge of common health hazards in your industry and how to prevent them.
Ask the Company Questions About Their Processes
Finally, don't be afraid to ask the company questions about their processes. Please find out how they clean each area of your business and what products they use.
This will give you an idea of whether or not the company is knowledgeable about cleaning and safety.
If you have any other questions, don't hesitate to ask. The company should be more than happy to answer them for you.
Check the Company's Liability Insurance
Before hiring any commercial cleaning company, make sure they have liability insurance. Ask the company for a copy of their liability insurance to be sure. You can also ask employees to show you a copy of their worker's compensation certificates.
Liability insurance protects you from any damages or injuries that may occur while they're on your property. It's always best to err on the side of caution and choose an insured company. This way, you won't have to worry about being held liable for any accidents that may happen.
Is the Company Flexible?
Another critical factor to consider is the company's flexibility. Can they work around your schedule? Do they offer services outside of regular business hours?
It's important to choose a company that can work around your schedule. This way, you won't have to worry about them disrupting your business operations.
Make sure to ask these questions before hiring any commercial cleaning company. By doing so, you can be sure you're making the best decision for your business.
Check Their Cleaning Equipment and Workforce
The company should have enough cleaning equipment and workforce to get the job done quickly and efficiently. Ask them about their cleaning equipment and how many employees they have on staff.
It's also essential to make sure that the company uses eco-friendly products. This is important for two reasons. First, it's better for the environment, and second, it's better for your health.
Eco-friendly products don't contain harmful chemicals that cause respiratory problems or skin irritations. Choose a company that uses eco-friendly products to be safe.
Ask About Their Continuous Employee Training
The company should have a continuous employee training program. This ensures that their employees are up-to-date on the latest cleaning methods and technologies.
It also helps employees know cleaning procedures and the proper use of cleaning products. Training on work safety is also critical, including awareness of potential hazards like electrical and chemical exposure risks.
Continuous training is also essential, as it also shows that the company is invested in its employees and wants to provide them with the best possible training. This, in turn, reflects positively on the quality of their services.
Make sure to ask about their employee training program before hiring any commercial cleaning company.
Schedule a Meet and Greet
The best way to get to know a commercial cleaning company is to schedule a meet and greet. This gives you an opportunity to see their work ethic and attitude firsthand.
You can also ask them any questions you may have about their services. This is the perfect time to get a feel for the company and see if they're the right fit for your business.
When meeting with the company, pay attention to how they communicate with you. Do they seem friendly and professional? Are they eager to answer your questions?
These are all good signs that you've found a reputable company.
Get Everything in Writing
Before hiring any commercial janitorial services near me, ensure you get everything in writing. This includes the cost of services, the scope of work, and the company's liability insurance.
Getting everything in writing protects you from any surprises down the road. It also makes it easier to hold the company accountable if they don't live up to their promises.
Take Your Time
Deciding on which janitorial company to hire is not something you should rush into. You must take your time and do your research before making a final decision. There are a lot of factors to consider, and you want to be sure you're choosing the best possible option for your business.
Find Commercial Janitorial Services Near Me
Are you looking for commercial cleaning services? Finding the best commercial janitorial services for your business can seem like a daunting task.
But if you follow the tips outlined in this article, you'll be well on your way to finding the perfect company for you. Now that you know how to choose the best commercial janitorial services, it's time to get started.
If you're looking for the right janitorial service in your area, check out our website. We link suppliers and clients, helping you save both time and money. Click here to select the services or products you need, and we will help you with price range information, buying tips, and a list of top commercial cleaning services in your area.
COMPARE QUOTES