How Much Do

Commercial Generators

Cost?
Prices for dependable commercial generators start around $8,000 – $12,999. Here's what you need to know to calculate your price.




What are Commercial Generators and How Much Do They Cost?
Commercial generators are large electricity generators that provide an on-site power source for businesses. During a power outage during an emergency or other service interruption, commercial generators run on natural gas, propane, or other combustible fuel to keep your business running. They are a good investment for businesses unwilling or unable to wait on a power plant to resume normal service.
In 2022 prices for commercial generators start around $8,000 – $12,999. Commercial standby generators are generally priced based on watts and voltage provided, as well as efficiency. Warranty and service plans can also affect the price.

What to Look For In a Commercial Generator:
There are two main types of commercial generators: single-phase and three-phase. If your business is small enough to be run out of a home or small office or retail location, a single-phase is likely sufficient. A larger business with its own lot or multi-story building will probably need a three-phase generator. Also, make sure your commercial generator can detect a power outage and come on automatically, or you'll need to ensure you have someone available with the necessary electrical expertise to safely start and stop your generator without risking your life and property.
Installation, annual inspections, and servicing are often offered by commercial generator providers. Make sure your generator will be kept in working order, or your backup could backfire.
No one kind of standby generator or power system will meet every need. Not sure what a commercial generator is all about? We make it easy to understand so you can protect your data, security systems, inventory, your bottom line, and keep your doors open to your customers. You can trust gas and electric generators to maintain power at your facility or worksite even if the power grid goes down.
Other Popular Brands: Dewalt, Cummins Onan, Subaru, Pramac, Honda
Types: Standby, Portable
Fuel Types: Gas, Electric, Propane, Diesel
Commercial generators are essential for businesses that rely on electricity to operate. They provide backup power in the event of a power outage, ensuring that operations can continue as normal. This article will discuss the different types of commercial generators, their benefits, and how to choose the right one for your needs. It will also include tips on maintenance and safety considerations when using a commercial generator.

Preparing Your Business for Power Outages: The Advantages of Having a Commercial Generator
Power loss is a major disruption for any business. With commercial generators, businesses can rest assured knowing that their operations can continue as usual during power outages. A commercial generator provides backup power by automatically switching on when the local grid fails so that electrical needs are met without interruption.
Types of Commercial Generators
There are various types of commercial generators to choose from. The most common ones are diesel-powered, natural gas powered, and propane-powered. Each type of generator has its own advantages for businesses in different industries.
Diesel-Powered Generators: Diesel-powered generators are generally the cheapest option and have an average life expectancy of 20 years or more. They are also extremely reliable and provide very clean electricity. The main downside is that diesel fuel can be expensive, so you'll need to factor this into your budgeting.
Natural Gas-Powered Generators: Natural gas-powered generators produce less noise than diesel-powered generators, which makes them a great option if you don't want to disturb your neighbors. They are also more efficient and can be cheaper to operate than diesel-powered generators in the long run. However, natural gas generators require more maintenance and can be tricky to install as they have to be connected to a city's natural gas grid.
Propane-Powered Generators: Propane-powered generators are a great option if you don't have access to natural gas. They aren't as powerful as diesel or natural gas-powered generators, but they produce less noise and can be installed more easily. The downside is that propane is flammable, so you need to take special precautions when storing and using them.
Choosing the Right Generator for Your Needs
When selecting a commercial generator, it's important to consider your specific needs and budget. Consider factors such as output capacity, fuel efficiency, noise level, maintenance requirements, installation costs, and any other special features you may require. You should also factor in any safety considerations, such as storing and using the generator in a safe manner.

Maintaining Your Commercial Generator
It's important to regularly maintain your commercial generator to ensure it continues working effectively. Regular maintenance tasks include checking the fuel system, testing electrical components, and making sure all parts are in good condition. You should also ensure that the generator is stored in a cool, dry place and away from any sources of ignition.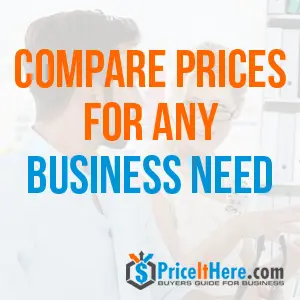 Commercial generators are a great way to ensure your business isn't disrupted by power outages. Make sure you carefully consider all the different types of generators available and select one that meets your needs. Don't forget to factor in maintenance and safety considerations when using a commercial generator. With the right generator, your business will be prepared for any future power outages.
Compare Commercial Generator Pricing
| Logo | Generator | Overall Rating | Model / Type | Type | Approximate Price | |
| --- | --- | --- | --- | --- | --- | --- |
| | GENERAC | | Series 22kW | Electric | $8,700 | |
| | Kohler | | 125ERESB 125KW | Electric | $33,000 | |
| | GENERAC | | Series 36 kW | Electric | $11,025 | |
| | Briggs & Stratton | | 25kW NG LP | Gas | $8,400 | |
| | GENERAC | | Series 45 kW | Electric | $12,130 | |
| | GENERAC | | Series 48 kW | Electric | $14,000 | |
| | Kohler | | 38RCL 38kW | Gas | $12,100 | |
| | Kohler | | 48RCL | Gas | $14,000 | |
| | Briggs & Stratton | | 35kW NG LP 120/240V | Gas | $11,800 | |
| | GENERAC | | Series 27 kW | Electric | $10,179 | |
Get Matched up With Commercial Generator Providers With Up To Five Money Saving Quotes