How Much Do
Air Compressors

In 2023?





What are Air Compressors and How Much Do They Cost?
Consumer-grade compressors range from $175 to $3,500 and are for basic household projects. Contractor-grade compressors, which range from $850 to $8,500.
An air compressor is a motor and an air tank that can power a variety of tools around your home or workplace. You can use an air compressor to inflate a raft or tire directly; you can also hook up an air compressor to an applicator like a paint sprayer or a power tool such as a nail gun.
Compare Air Compressor Pricing
| | Air Compressor Reviewed | Type | Gallons | Average Cost | Learn More |
| --- | --- | --- | --- | --- | --- |
| | Campbell Hausfeld CE 7000 7.5-HP | Electric | 80 Gallon | $1,999.00 | |
| | Rolair VT25BIG 115 V 2.5 HP | Electric | 5.3 Gallon | $5208.00 | |
| | EMAX 17 8-HP | Gas | 17 Gallon | $2,225.00 | |
| | Iron Horse 9-HP Wheelbarrow Air Compressor | Gas | 10 Gallon | $1,300.00 | |
| | DeWalt 5.5-HP Honda Engine | Gas | 8 Gallon | $950.00 | |
| | Ingersoll Rand Garage Mate 2-HP | Portable | 20 Gallon | $679.00 | |
| | Puma 2-HP 12 Volt Continuous Duty Tankless | Electric | 30 Gallon | $2,990.00 | |
| | Campbell Hausfeld Vrt Stationalry 7.5 HP | Electric | 80 Gallon | $3,590.83 | |
| | Chicago Pneumatic 2-HP | Portable | 26 Gallon | $890.00 | |
| | Quincy Air Master 2-HP | Electric | 20 Gallon | $4,900.00 | |

What to Look For In an Air Compressor:
When choosing an air compressor, first determine how frequently you'll use it and for what activities. Make sure you get a tank large enough for your planned use so your tools strain the tank or motor. Air consumption needs for tools are measured in pounds per square inch (PSI) and cubic feet per minute (CFM)—make sure you take these into account when selecting an air compressor.
Air compressors, especially larger ones, function better if you dedicate at least a 15 amp circuit to its operation. Do not overload a home outlet with other tools in addition to the air compressor! Some models can run on a generator, which may be preferable for heavier usage.
More Buying Tips and Information: When buying air compressors you'll choose your power sources between corded/cordless electric, air, or gas. Most people prefer gas but this varies by need. Horsepower ranges from as little as 1HP to 15HP depending on the product's use being for commercial or residential services. For maximum pressure, the average products range between 145PSI – 190PSI.
Popular Air Compressor Brands: by Ingersoll-Rand, Campbell Hausfeld, Quincy, Champion, Emax Air Compressors, Schrader, Curtis, California Air Tools, Craftsman, DEWALT, Hyundai, and Industrial Air
Get Matched up With the Right Air Compressor Supplier With Up To Five Money Saving Quotes

Air Compressor is an efficient, cost-effective, and reliable way to power a variety of industrial equipment. It uses compressed air to power tools, machinery and other applications. Air compressors are available in both stationary and portable models, allowing for flexibility in how they can be used. They are ideal for any number of industrial materials handling tasks, such as moving and lifting heavy objects, spraying liquids or gases, cleaning, and more. Air compressors provide a steady stream of compressed air for efficient operation, helping to reduce downtime and maximize productivity.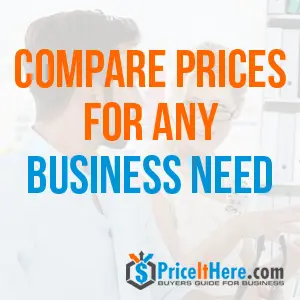 Air compressors also ensure safety with their low-pressure operation, reducing the risk of accidents or damage. With regular maintenance, air compressors can last for many years, offering a reliable and cost-effective way to power industrial equipment. Air compressors are an essential tool for any industrial setting, ensuring efficient operation and keeping work running smoothly.
How to Choose the Right Air Compressor for Your Needs
When it comes to choosing an air compressor, there are a few things to consider. First and foremost, you should determine the type of applications for which you will be using the air compressor and the size of these applications. This will help inform your decision on what type of air compressor best meets your needs. Additionally, you should take into account the power and flow rate of the compressor, as well as its capacity, portability, noise levels, and cost. Taking all of these factors into consideration will ensure that you make the best choice for your needs.
Benefits of Using an Air Compressor
Air compressors provide a number of benefits in industrial settings. Here are 5 advantages:
1. Greater Efficiency: Air compressors are often used to power industrial machinery, such as drills, nail guns, jackhammers, and more. By using compressed air instead of electrical power, these machines can be operated with greater efficiency and precision. This increased level of accuracy increases productivity and reduces waste, resulting in cost savings for the business.
2. Improved Safety: Air compressors can be used to power tools that are not necessarily safe to operate with electricity, such as pneumatic saws and grinders. This reduces the risk of shocks or other electrical hazards and increases safety for employees.
3. Cleaner Operation: Because air compressors do not produce emissions or heat, they are ideal for businesses that need to operate in clean environments, such as food processing and medical facilities. Compressors also help reduce noise pollution, which is a major concern for many businesses.
4. Power Source Flexibility: Air compressors provide the flexibility of being able to use tools and machinery in locations without access to electricity. This makes them an ideal power source for construction sites, remote locations, and other off-grid areas.
5. Cost Savings: Air compressors are cheaper to operate than electrically powered machines, as they use less energy and can be powered by a variety of fuel sources, such as gas or oil. The cost savings associated with using an air compressor can add up quickly and can be a great way to reduce operating costs for any business.
Overall, air compressors are an extremely useful tool in the industrial setting and come with a number of benefits. They increase efficiency, improve safety, provide power source flexibility and reduce operating costs. These advantages make them essential for any business that needs to maximize productivity and minimize costs.

The Advantages of Portable vs Stationary Air Compressors
Portable air compressors offer a variety of advantages over stationary air compressors, including size and portability. Portable air compressors are typically much smaller and lighter than their stationary counterparts, making them easy to move around your workspace or job site. Additionally, many portable air compressors come with wheels for added convenience in moving the compressor from place to place. This convenience makes them ideal for workers who require an air compressor in multiple locations or job sites.
Portable air compressors also come with more features than their stationary counterparts. Many offer different types of pressure gauges, valves, and switches that make it easier to adjust the unit's pressure output and other settings. This makes them ideal for jobs that require frequent adjustment and fine-tuning of the air compressor output.
The portability of portable air compressors also makes them easier to store in smaller spaces or vehicles, so they can easily be taken from one job site to another. This is especially useful for workers who need to take their equipment with them when they travel.
Finally, portable air compressors are usually less expensive than stationary units, making them an affordable solution for those with limited budgets. This can be especially beneficial for small businesses or those just starting out in the industry. By choosing a smaller and more cost-effective unit, they can save money while still receiving all the benefits of having an air compressor on hand.
In conclusion, portable air compressors provide a number of advantages over stationary units that make them the ideal choice for many applications. Their size and portability make them easy to move around, while their additional features allow for more precise output adjustments. Additionally, they are usually less expensive than their larger counterparts, making them a great choice for those with limited budgets. With all these benefits, it is easy to see why portable air compressors are becoming more popular in the workplace.